BoiledDown

.net




If everyone's a critic, then so are we!
Padington 2
The bear is saving for a perfect gift for his aunt, but he is not the only interested in it
Wittenberg
30-08-2020

Warm and cozy
It's hard to fault this family-friendly, cozy, good looking and amusing comedy, as they balanced of of these things just about right for the target audience. Personally, I'd like some more edge, but this is probably the wrong movie to ask.
Sputnik
Sputnik cosmonauts crash on earth, one of them is carying something unearthly with him. A doctor is asked to investigate.
Wittenberg
26-08-2020

A bit slow
While subjects like this are always a killer, and I liked the Russian take and atmosphere for a change, I found the movie to be rather sluggish. There's a lot of talking and walking through the hallways with too little excitement or tension, nor did I find everything very credible.
Cashback
Chronically unable to sleep after a breakup, a guy decides to use this new time to work in a supermarket, where he discovers he posesses time alteration abilities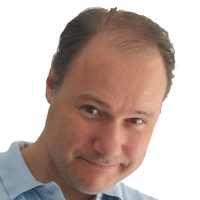 Wittenberg
26-08-2020

Nice, but not all the way
A very charming, sympathetic and occasionally very sexy movie. The atmosphere of these teenagers plowing through the night is neat. Unfortunately, it can't maintain the magic all the way through, and even deteriorates some of it with dissonant elements like the soccermatch and kung-fu kid.
John Wick: Chapter 3 – Parabellum
Because he broke some rules, John is now declared outlaw and the entire underworld seems to be after him.
Wittenberg
16-08-2020

The core of the franchise
The story serves as a carrier to deliver oodles of John Wick-style fights and not much else. It can be a bit too much and absurd at times, but I must say there is also something mesmerizing and satisfying about these endless, beautifully choreographed, flowing violent dances of death.
Gerald's Game
In an isolated vacation home, a man ties his wife to the bed for sexy times, then dies of a heartattack
Wittenberg
15-08-2020

Not as unbearable as I hoped for
A bold idea, but the lead actress was unable to convey her dread and dismay to the screen, the dialogue with her 'ghosts' seemed a bit childish and like a play, and the twist at the very end seemed unnecessary and farfetched.
Time Trap
When they try to recover missing persons from a cave, it seems that in there, there is something wrong with time
Wittenberg
15-08-2020

Great idea cannot overcome B-movie atmosphere
I love the idea, and it's one that could have worked beautifully with limited budget and resources. Unfortunately, they went with rather dull, unimaginative characters delivering cheesy lines and doing crincy things, which results in a fatal B-movie atmosphere. Too bad, they were on to something.
Doctor Sleep
Now an adult, the boy from The Shining has managed to take control of his ghosts when he sets out to help another gifted girl
Wittenberg
09-08-2020

Sacrilege yourself
Well this sequel seemed like an unholy idea to begin with, but since apparently King himself wrote it I was hopeful. Alas, it really is a sacrilege that fails to become scary, stuff they bring back from the Shining instantly looses it's appeal and the sucking of 'scare smoke' was just so childish.
Code 8
Man with electrical superpowers has no to choice but to use them for shady business so he can pay for his mother's medical bills
Wittenberg
01-08-2020

Solid but with some windowdressing
Overall this was quite solid and featured good acting and atmospherics. But ultimately the superpowers and cool airdrop-robots started to feel as window dressing, because they didn't really seem to matter for the development of the story, and a slightly underwhelming crime story was what remained.
Shanghai Fortress
Shanghai defends against an alien invasion. With a big canon.
Wittenberg
31-07-2020

Arrogant empty shell
How the hell did they get such a big budget to make such bland, generic, lifeless movie? It radiates arrogance. The numerous 'emotional' scenes with cheesy minor piano chords fall flat completely because I didn't know or care who these people are!
Devilman Crybaby
A dude can turn into a devil without becoming evil, which gives him the powers to save the world from demons taking over.
Wittenberg
31-07-2020

Intriguing oddball
A really odd manga that is wrong for many reasons, and had me wondering why I was watching it several times. But the strange turned into intrigue, and kept me curious enough to watch all of it - which was rewarded by a tasty finale.
Movies found: 706 | max movies per page: 10 | Showing: 101 - 110
Previous
Next